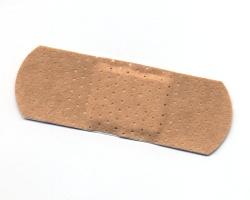 It turns out The Freckle was not to be beaten into submission as I had hoped it would! Yesterday, I took it's dainty arse off to the dermatologist just to be sure that it was nubbin... I mean nothing! That one will only work for die hard Friends fans - sorry! 
But... hooray ... it was declared that, as it was growing again (WTF is this thing I begin to ask myself at this point), they decided to lop it off! So, one large needle into the side of my nose, right near the bone, and the smell of burning flesh later  - sorry if it's too graphic but I was there and you weren't - my little friend was gone and whisked off to be examined under the microscope with results promised in three weeks!
I ripped the plaster and dressing off this morning as it was driving me crazy; I could see the darn thing just under my lower lashes - only to see that what was causing the discomfort was not the removed object but the big lump where they'd jabbed in the local anesthetic! Oh well... two lumps are better than one!
As for the second part of today's post - classic conversation with Small Child in front of the local priory today. No - I haven't gone all religious on you... we just happened to be walking that route back from feeding the ducks. 
SC - "Can I run  over there by those stones?"
Me - (at this point I was sorely tempted to say "Because I said so" but I didn't - foolishly)
Me - "Because they are grave stones"... pause... wait for it .....
SC - "What are grave stones?"
Me - "Well... when people die, sometimes they choose to be buried and they might have a grave stone to mark the spot so we shouldn't run about over it out of respect"  (At this point am thinking sh*t... why did I get into this?!?)
Me - "Now get back in the push chair and let me do the straps up"
Me - "Cos if I bump you off the kerb with no straps you might fall out"
Me - "No sweetheart - you wont die - I'm sure you'll live to be ancient - 100 even"
SC - "Just like you mummy"