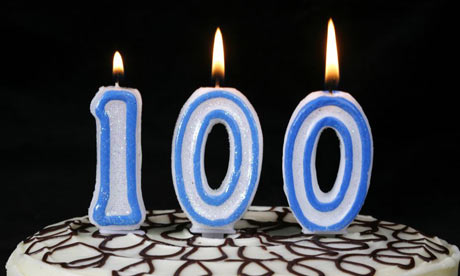 This is my 100th post! Cue whooping, joyous celebration, popping of champagne corks etc.... you'd think wouldn't you? Erm.... no. I actually feel 100 at the moment and the stupid thing is I have no idea why! Perhaps it's down to an unexpected hormone rush as a prelude to an early onset of the menopause - can that happen at 39? Perhaps it's down to the vicious onslaught of temper tantrums from my three and three quarter year old Small Child this week? She has decided that it is not to her liking to do anything I ask her, tells me constantly I'm not her best friend and has taken to hitting me when I put her in the naughty corner for hitting me! 
Perhaps it's just a bad reaction to all that exercise I did last week? You note that I say last week.... this weeks efforts have only included some dancing (and very bad karaoke) at one of my best friends 40th birthday parties and a full on Christmas shopping attack yesterday. In a most unlike me moment of common sense I even wore comfortable shoes and still got blisters after so much shop trawling! 
Perhaps I'm being a grumpy scrooge and getting a pre Christmas Grinch attack - except I love this time of year and start embracing it full on festive mode on the 1st of December. I am that annoying variety of holiday cheer-meister who would bath in egg nog if she was allowed so that can't be it.
I have found myself avoiding Blogland all week and now I know why... all I've done is whinge! So I'm going to take my 100 year old, whiny arse off line now and hope that normal service will be resumed as soon as possible!